Conversion Optimization
Print
Already Running Online Marketing Campaigns & Not Seeing Increased Sales? Here are Some Reasons Why.
Driving traffic to a "leaky" website
Ever seen those websites where the information you want plays hide and seek with you? Or been to a crappy website where the page takes forever to load? A website that isn't optimised to receive visitors has the highest chance of failing to convert visitors into leads / sales.
Assuming what works offline will work online
Some marketers take the easiest route to advertising online by uploading a print brochure on their website and expecting enquires. However, online marketing involves more than that. It takes a great sales pitch to convince customers to leave their email address or submit an enquiry. Knowing how to convince customers helps to get one foot in the door.
Buying ad traffic and assuming it'll bring you sales.
Sure, driving traffic to your website is easy, all you have to do is pay up. But are you driving the right traffic to your website? Suppose your products are tailored for women, but your online ad campaign sends men to your website. Chances are, you'll spend much but achieve little sales with your campaign.
Our Online Marketing Approach
Ready to delve into the heavier stuff? Here's a taste of what our online lead generation system involves: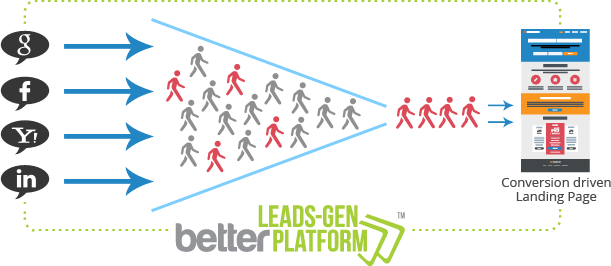 Landing Page: The Page Where Visitors Land On After Clicking Your Ad
This is the page which will help sell your services to your customers, and where your sales pitch should be. A strong sales pitch should include your product's main selling points, in addition to information that will set you apart from your competitors. You should also include a form that encourages users to leave their contact details or sign up for your services. What Matters: Your Key USPs (Unique Selling Points), Persuasive Copy, Browser / Device Compatibility
Traffic Acquisition: Getting Visitors To Your Website
Google, Facebook and Yahoo! Bing are different channels to get users to visit your website. Each channel has a bidding process to determine when your ads are shown, and a specific set of rules on the setup of your ads. Ad formats on each of these channels vary too. Therefore, how well you optimise your ads (or play by each channel's rules) can also affect how much you end up paying for each ad, and whether you are able to get consistent traffic for your website. What Matters: Relevant keywords, High Ad Click-through Rates, Top 5 Ad Positions.
Data Analysis: Know How Your Online Marketing Campaign Is Performing
Get insightful data on the kind of visitors you attract on your landing page and the kind of messaging that appeals to them. We specialise in using your data to improve your campaign continuously. For example: – Are you bidding on the right keywords? – How much time are visitors spending on your landing page? – Are you targeting the right users? E.g. Are you selling children toys to those who want pet toys? – Is what is written on your landing page clear to your users? What Matters: Setup of Data Tracking, Technical Support, Data Analysis & Insights